Events in 2018
For details please phone Church Office on 01457 852738
or Jim Solomon on 07985 029115
Ea

ch

week
SUNDAY SERVICES
10.30am
The Services are followed by refreshments in the Church Lounge
BIBLE STUDY
Tuesday morning – Led by Stephen Hartle
Enquiries: Church Office
Wednesday evening – Led by Jim Solomon 
Enquiries: Church Office
The Tuesday and Wednesday Bible Study groups are looking at the book of Acts.
However, every third Tuesday and Wednesday of the month beginning 18th/19th September respectively we'll be holding a DISCIPLESHIP  EXPLORED course (eight sessions in total) instead of the usual Bible Study. See posts on Home Page for details. Please feel free to attend this course without attending the sessions on Acts if you want to find out what following Jesus means.
BIBLE CLUBS at our local school
(alternating weeks between Infant site and Junior site)
Each

month
OASIS
Oasis is held in the Chapel Lounge on the last Wednesday of every month. Lunch is provided. Speakers will be announced on the monthly Diary page (see the Home Page tabs)… and there's usually a quiz.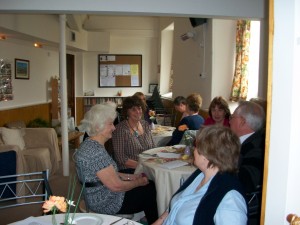 Visiting Speaker Christine Fidler of the Image and Pregnancy Helpline
MONTHLY PRAYER MEETING 7.30pm
Enquiries: Church Office
DVD NIGHTS AND GUEST SPEAKERS
(when there is a 5th Wednesday in the month) dealing with informative, current and thought provoking issues. These can relate to, for example, issues of science, deeper biblical issues, and our world and its politics with regard to Christianity.
 PRAYER FOR THE PRODIGAL
Bi-monthly on Saturday mornings
Enquiries: Church Office
PRAYER FOR ISRAEL
Bi-monthly on Saturday mornings
Enquiries: Church Office
Each year
CARNIVAL
Each year the church participates in the Village Carnival.
Occasional events

 
(see Diary or Home Page posts for details)
FARMING CHRISTIAN LINK AT COUNTRY SHOWS
SUPPER EVENTS WITH SPEAKERS
SCHOOL CELEBRATION SERVICES AND ASSEMBLIES
Charlesworth School
Simmondley Pre-School